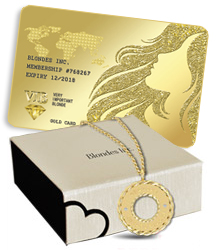 How often have you struggled to think of, let alone find, the perfect gift for that special lady in your life, be that friend, family member, partner or wife? Struggled to find that ideal surprise that is unique enough to generate a "Wow!" when it's opened.
The Blondes Inc. uniquely Perfect Gift can be any pendant and chain of your choice in either silver or gold presented in a stylish gift-box – PLUS – an extremely classy Blondes Inc. membership card.
While this is a totally stunning keepsake, what makes this present so very impressive is the generous percentage of your purchase that goes to a worthy cause, contributing to a lighter and brighter world.
Now, that's a truly precious memento for your very own extraordinary blonde – even if that blonde just happens to be you!